Help with The Project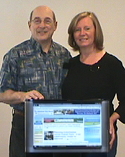 Since we began On The Record Webcasting in 2009,
a growing number of Rhode Islanders have become aware of the benefits to the communities we serve and urged us to launch a Record for theirs.

Because the demand out paced our resources we needed a plan to support The Record's growth.

Listed here are several ways for our Record fans to help move The Project along…

You can Volunteer… You could be a meeting videographer – help build citizen awareness – plan a local fund raiser – stuff envelopes or whatever is needed to help the cause grow. Just let us know your schedule, skills and interests.

You can make a Donation… Throughout the internet world it's common practice for users to support their favorite "free-to-use websites" with donations.

So if you have the means and are inclined to contribute to our Open Government activities, we've listed how to do that below.

You can Advertise… If you own a business The Record viewers are a top level audience.

Display Ads on our video pages identify your company as an Open Government supporter and shows a commitment to the community.

Come out of retirement… If you're retired but "not tired", you might want to take the lead and launch a Record in your community as a local affiliate. We'll guide you through the process and handle all the technical stuff we've had to master over the years.

Everyone is Welcome! Because we are truly non-partisan in our goal, it doesn't matter what your political affiliations are. Easy access to Open Government benefits everybody!

Whether your interest is oversight, education or a single issue, seeing it all On-Line, On-Demand, 24/7 with as-it-happened viewing of "The facts and just the facts!" is finally possible.

Call us about helping out at (401) 354-2353

To Advertise call (401) 864-2607

Thank You

Cheryl and Sav Rebecchi
Publishers

-------------------------------------------------------------
Here's how to make a Donation...

Mail To:
On The Record, 13 Sail Street, Jamestown, RI 02835. Please do not send cash. Make checks payable to On The Record RI.

On Line by Credit Card or PayPal
*You do not need a PayPal Account for single amount credit card donations.